Description
The Blade – Weight and Finish
There are three options for the kama blades:  either 3mm or 4mm steel, which can be polished or given a protective black oxide coating; or a lightweight polished aluminium blade.
The 4mm steel blades are a true 'weapon weight' and are ideal for developing strength and an understanding of the true nature of kama.  The 3mm blades are lighter and so a little easier to manipulate, but still
Aluminium metal is much less dense than steel, meaning these blades are very light weight even in 4mm thickness.  A weight table is shown below.  These are an ideal weight for use as a practice pair whislt learning the weapon, or perhaps if you just prefer to use a lighter option.
| | |
| --- | --- |
| 4mm Alu | 90g |
| 3mm Steel | 200G |
| 4mm Steel | 275G |
Steel may gradually oxidise if left in contact with moisture.  The black oxide provides a corrosion resistant black coating on the body of the blade. For untreated blades, an occasional wipe with a thin oil will help preserve the surface.  Aluminium is naturally resistant to rust, and so requires no coating.
The Blade – Shape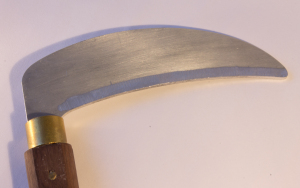 The Seaholme blade design has been developed based on existing martial arts kama, modified for safety. The sharp point seen on some blades is rounded off and the 'cutting edge' is left unsharpened.  A 1 cm bevel is ground for appearance only; these kama are for demonstration and will not be supplied sharp.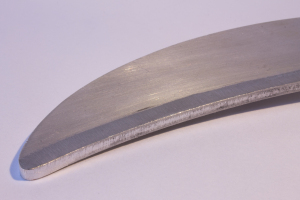 The Handle
Three materials are available for handles: white oak, hard maple & black walnut, more information is available on the Wood Choices page.
Design – The Handle
The handle is profiled with the classic 'stadium' shape.  Flat sides allow for control when changing hand position.  Rounded sides provide a comfortable fit in the hand.
The standard length 370 mm (measured butt end to top of ferrule) and width 32 mm x 26 mm.  This can be customised on request.
Construction
Kama are built to last: solid wood handles joined to a steel or aluminium blade, using traditional 'hammer & anvil' peened 4 mm diameter through-rivets and a 27 gram brass ferrule.  Handles are finished with multiple coats of hand-rubbed natural tung oil.