Description
The Blade
Kama blades are available in either 2mm or 4mm steel, and can be delivered polished or heat-treated (Blackened).  2mm blades are half the weight of the 4mm and are recommended if you would prefer lighter-weight equipment or for a beginner's training.
Each 4mm steel blade is ~265 grams which gives a traditional heft to the weapon and assists in developing strength, however due to this weight these kama are recommended only for the more experienced practitioner.
Steel may gradually oxidise if left in contact with moisture.  Heat treatment hardens the metal and provides a corrosion resistant black coating on the body of the blade. For untreated blades, an occasional wipe with a thin oil will help preserve the surface.
The Blade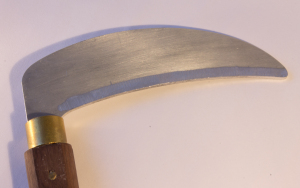 The Seaholme blade design has been developed based on existing martial arts kama, modified for safety. The sharp point seen on some blades is rounded off and the 'cutting edge' is left unsharpened.  A 1 cm bevel is ground for appearance only; these kama are for demonstration and will not be supplied sharp.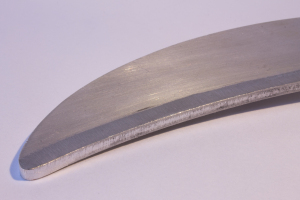 Material Choices – The Handle
Four materials are available for handles: white oak, ash, hard maple & black walnut, more information is available on the Wood Choices page.
Design – The Handle
The handle is profiled with the classic 'stadium' shape.  Flat sides allow for control when changing hand position.  Rounded sides provide a comfortable fit in the hand.
The standard length 370 mm (measured butt end to top of ferrule) and width 32 mm x 26 mm.  This can be customised on request.
Construction
Kama are built to last: solid wood handles joined to a steel or aluminium blade, using traditional 'hammer & anvil' peened 4 mm diameter through-rivets and a 27 gram brass ferrule.  Handles are finished with multiple coats of hand-rubbed natural tung oil.